Source: http://www.themotherofallbabyshowers.com/blogs/tips-for-finding-the-right-nanny-with-the-nanny-league
Looking for a nanny can be stressful for a family. How do you find the right one? How do you even begin to look for one? We've partnered with The Nanny League to help answer these questions and more. Lindsay Thomason, president and founder of The Nanny League, has over 20 years of expertise in child care and is passionate about families finding the right nanny.
We had the pleasure of having The Nanny League at our Austin event this year and wanted to share some of that information with everyone else. If you're thinking about a nanny or seem overwhelmed with how to start the process, we've got you covered.
1) When is the right time to look for a nanny?
Depends on your family's needs.  3-6 weeks from the nanny's potential start date is ideal.  However, because we have hundreds of fully-vetted candidates in our League, it can take as few as 48- hrs to hire that perfect fit.
2) What are the qualities a parent should look for in a nanny?
What characteristics and traits are most important to you in a partner?  The nanny is essentially the third parent, so It's important you see eye-to-eye on most things. What is your discipline style? What is your childcare philosophy? What are you tv-viewing habits? Do you think an infant should cry it out or be coddled?
Do they prefer full autonomy, or do they work well with others? Will they help pitch in with household chores? Is she flexible, punctual and reliable? Does she have a history in calling out sick, for example?
How does this nanny talk about her previous employers?
How does he/she talk about being a nanny? Can you feel their passion for their work?
Are they looking to do this long-term, what kind of commitment can they actually make?
What credentials and education do they have?
What is their favorite age group and why? What makes them stand out?
3 & 4) What is the range of pay for a full-time nanny? Does it vary by city?
Our nannies typically, universally, start at $20/hr and up, but yes, varies by city, the nanny's experience & credential and cost of living.  This depends on number of children, duties required, their background and salary history and so on.  We place nannies in home offering anywhere from $55-125k annual gross salaries. We encourage all of our clients to pay legally, on the books (via payroll) + overtime (anything over 40 hrs/wk for live-out care, over 45 hrs/wk for live-in); incentives often include but are not limited to: two-weeks paid vacation, 5 sick/personal days, gas/mileage compensation if they are using their vehicle on the job, a monthly stipend towards their health insurance, and more!  We provide our clients with the appropriate literature for their state Tax & In-Home Childcare Employment Laws.
5) How does The Nanny League assist parents in the process of finding the right nanny for their family?
This is truly a matchmaking process! Every family, and every nanny, is unique!  We ask that our clients fill out our Family Application and we follow up with a phone call (or vice versa). Based on your family's specific needs, we will send you resumes for candidates who only meet them. We do not like to waste anyone's time, so we give careful consideration to every single candidate we send your way!  If we don't have someone in our pool who has already been thoroughly vetted, and meets your particular needs, we will recruit specifically for the job at hand.  All of our nannies go through the same demanding screening process that includes the following: ten-page application, interview, reference & background check (which includes driving record, Megan's Law clearance and criminal record), First-Aid & CPR Certification, and completion of our online nanny training program on Child Sexual Abuse education, prevention & mitigation.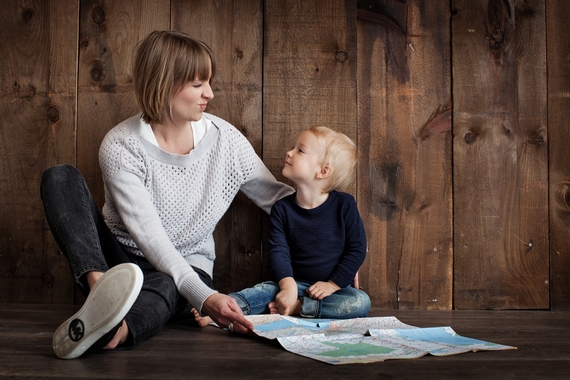 6) Why is it so important to The Nanny League for a nanny to be college educated?
This is one of the most important jobs on the planet! How could a degree NOT help you in becoming the absolute best childcare provider? We have so many former teachers, nurses, etc. who have joined our League because of what this career offers you. It is one of the most rewarding jobs you can have, especially for someone passionate about children.   Many of our applicants have a degree in a second language, Child Development, Early Childhood Education and more! Completing college automatically proves to us a person's ability to make a long-term commitment, along with their time management & organizational skills and resiliency, before they even fill out application—these are all traits extremely important to us in a candidate and in the role of nanny.
7) As a former nanny yourself, what advice can you give to someone just starting out in the business?
Be sure to complete your own due diligence—get all of your certifications, vaccinations, trainings & education to help you be the best childcare provider.  This is a viable career option and you should treat it as such. Parents are counting on you to show up on time, dedicate yourself fully to their family, and to be professional at all times. Treat your charges as you would your own children, along with the household itself, and this will surely be a successful experience!
8) Why should parents use The Nanny League to find a nanny?
We believe in quality over quantity. We attract the best of the best, and we know you will feel the same. There is no money down to get the process started, you only pay an agency fee if you hire someone through us! It's a win-win!
---
LINDSAY ASPELL THOMASON, the owner and founder of The Nanny League, offers 20 years of proven expertise. From babysitter and mentor in her hometown outside of Philadelphia (Haddonfield, NJ), to studying Child Development & Psychology in college, childcare has long been an integral theme in her life.The Nanny League was born in late 2010. Since then, Lindsay has built a database of over a thousand professional, college-educated nannies and has matched hundreds of nannies with families throughout the United States. Lindsay currently resides is Austin, TX with her husband Eric and dog Evvie. She is dedicated to continuing her nationwide expansion as one of the best nanny matchmaker agencies in the US.